Welcome to the Sidney American Legion Post 217 Baseball website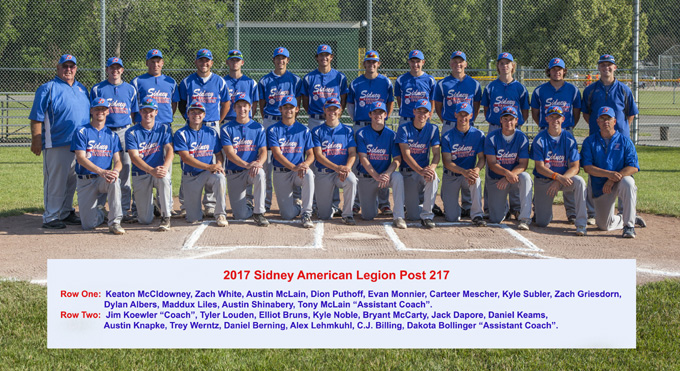 NOTICE
The SIdney Post 217 baseball team has once again qualified for the State Legion Tournament, to be held Wednesday thru Sunday, July 26 thru 30 at Lancaster, OH. The 27 & 14 Sidney team advanced to the State Tournament by edging the Piqua Legion Post 8 - 7, in 11 innings in the
Region 2 Championship game.
The Saturday, July 22 doubleheader at Custenborder Field has been cancelled due to rain!
DON'T FORGET!
A public send off for our State Bound Post 217 Legion Team will be held Monday July 24th at 6:30 at the Sidney American Legion, on Fouth Avenue, in Sidney. Public is invited.
Food and drinks will be provided.
The 2017 Sidney American Legion Post 217 Baseball season started off with a doubleheader on Sunday May 29th @ 12:00 noon vs Toledo Whitehouse (at Bowling Green High School) and ends with the Ohio American Legion Tournament in Lancaster, July 26 - 30. And there is plenty of baseball action in between.
Why don't you join us and watch some of the best baseball players in the area making their way through a very challenging schedule of games.
Home games are played at the Legion Diamond at Sidney's Custenborder Fields. See you at the Ball Park!